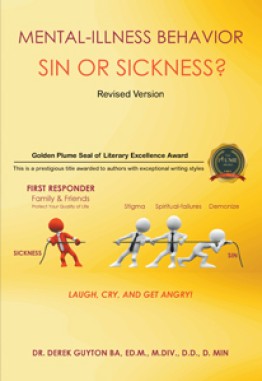 Mental-Illness Behavior Sin or Sickness?: A Revised Version
Author:
Dr. Derek Guyton BA,ED.M., M.DIV., D.D., D. MIN
Item Summary
| | |
| --- | --- |
| No. of item(s): | |
| Total amount: | |
Confession can be good for the soul but bad for your reputation. My reputation has been shot since 2007. Confession by this book is good for my soul. I am 72 years old as of 2021. I have not ministered in the church since I got sick in 2007. Embarrassment has already taken its course. What am I trying to protect? I was more concerned about protecting my reputation because I am supposed to be a Christian.
So, I will just say it, I have been hospitalized 21 times and had 21 car accidents. I am diagnosed with schizophrenia, chronic schizoid affective type (including bipolar I) since 1974. (47 years.) I was a public-school teacher, CEO of two computer companies, and pastored two churches.
I have a B.A. degree, two master's degrees, two doctorate degrees, and received two parenting awards. I am an oxymoron.
For me, the stigma in the church was the worst. I must deal with sin and sickness. The sin is spiritual failure and demonic influence. Before I became a Christian, I was hiding my mental sickness not sin.
This book is written for the family and friends with a loved one with mental health challenges. It will also serve well for those with mental illness. I offer you to laugh, cry and, get angry with me as you read this book and experience my journey.
Features & Details
Black & White
Pages: 336 | Trim Size: 5.5x8.5