13 Motivational Quotes for Writers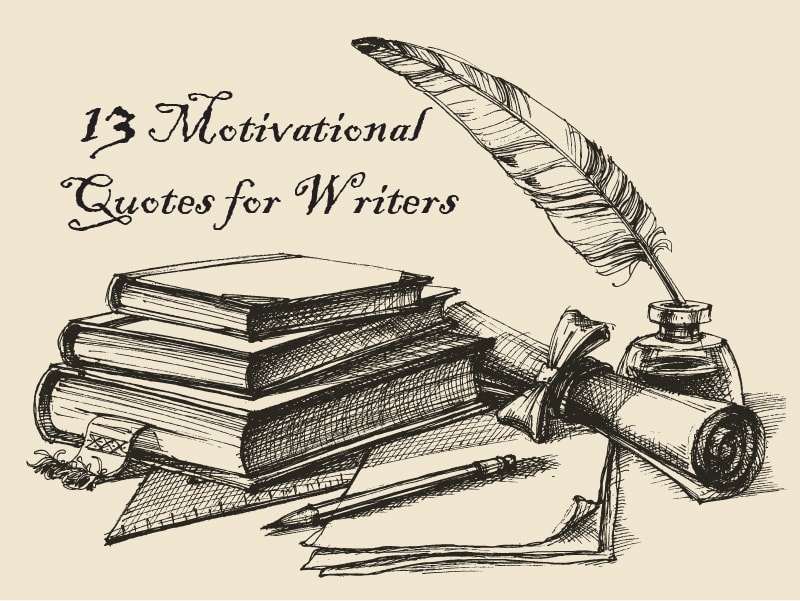 If you just started out as a writer, it could be difficult for you to get started on your writing journey. This is because the writing process can get very intimidating and it does not get easier in the long run. And if you don't have the right mindset, you could get discouraged very easily.
So you will need to get as motivated as possible. That way you could tackle the writing process with a passion.
Here are 13 motivational quotes for writers:
"When I sit down to write a book, I do not say to myself, 'I am going to produce a work of art.' I write it because there is some lie that I want to expose, some fact to which I want to draw attention, and my initial concern is to get a hearing."
—George Orwell
"I'm out there to clean the plate. Once they've read what I've written on a subject, I want them to think, 'That's it!' I think the highest aspiration people in our trade can have is that once they've written a story, nobody will ever try it again."
—Richard Ben Cramer
"A book is simply the container of an idea—like a bottle; what is inside the book is what matters."
—Angela Carter
"Whether a character in your novel is full of choler, bile, phlegm, blood or plain old buffalo chips, the fire of life is in there, too, as long as that character lives."
—James Alexander Thom
"I don't need an alarm clock. My ideas wake me."
—Ray Bradbury
"It's none of their business that you have to learn to write. Let them think you were born that way."
—Ernest Hemingway
"Genius gives birth, talent delivers. What Rembrandt or Van Gogh saw in the night can never be seen again. Born writers of the future are amazed already at what they're seeing now, what we'll all see in time for the first time, and then see imitated many times by made writers."
–Jack Kerouac
"Plot is people. Human emotions and desires founded on the realities of life, working at cross purposes, getting hotter and fiercer as they strike against each other until finally there's an explosion—that's Plot."
—Leigh Brackett
"One thing that helps is to give myself permission to write badly. I tell myself that I'm going to do my five or 10 pages no matter what, and that I can always tear them up the following morning if I want. I'll have lost nothing—writing and tearing up five pages would leave me no further behind than if I took the day off."
—Lawrence Block
"The writing of a novel is taking life as it already exists, not to report it but to make an object, toward the end that the finished work might contain this life inside it and offer it to the reader. The essence will not be, of course, the same thing as the raw material; it is not even of the same family of things. The novel is something that never was before and will not be again."
—Eudora Welty
"Style means the right word. The rest matters little."
—Jules Renard
"Know your literary tradition, savor it, steal from it, but when you sit down to write, forget about worshiping greatness and fetishizing masterpieces."
—Allegra Goodman
"The greatest part of a writer's time is spent in reading, in order to write; a man will turn over half a library to make one book."
—Samuel Johnson