15 First Lines of Iconic Books That Will Stand the Test of Time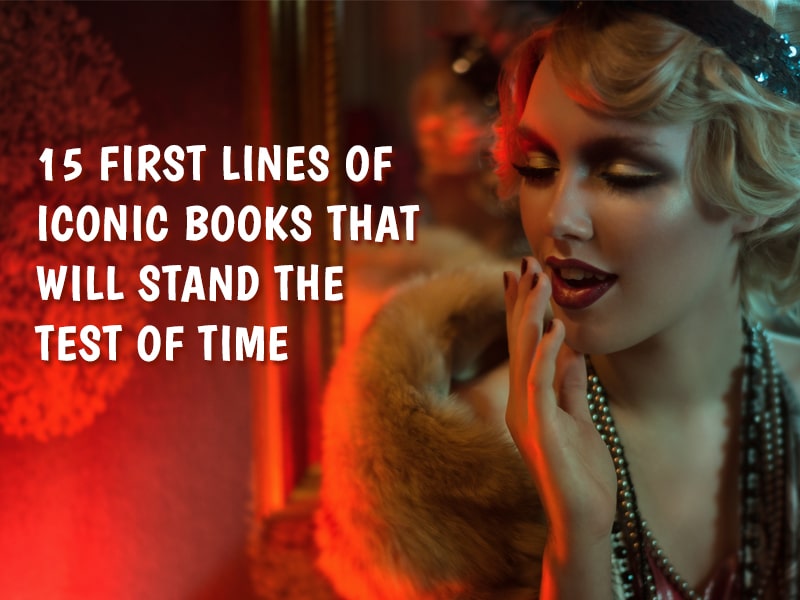 Being a writer is a difficult prospect. This is because it takes a great deal of motivation to keep going. So if you want to make writing a part of your day to day life you should look for sources of inspirations. One great source are first lines of iconic books.

Her are 15 First Lines of Iconic books that will stand the test of time:
With these lines, you can get your creative juices moving every time you sit down and write.

A Tale Of Two Cities
By: Charles Dickens
"It was the best of times, it was the worst of times, it was the age of wisdom, it was the age of foolishness, it was the epoch of belief, it was the epoch of incredulity, it was the season of Light, it was the season of Darkness, it was the spring of hope, it was the winter of despair, we had everything before us, we had nothing before us, we were all going direct to Heaven, we were all going direct the other way."
The Catcher in the Rye
By: JD Salinger
"If you really want to hear about it, the first thing you'll probably want to know is where I was born, and what my lousy childhood was like, and how my parents were occupied and all before they had me, and all that David Copperfield kind of crap, but I don't feel like going into it, if you want to know the truth."
Anna Karenina
By: Leo Toltsoy
"All happy families are alike; each unhappy family is unhappy in its own way."
The Great Gatsby
By: F. Scott Fitzgerald
"In my younger and more vulnerable years my father gave me some advice that I've been turning over in my mind ever since."
Frankenstein
By: Mary Shelley
"You will rejoice to hear that no disaster has accompanied the commencement of an enterprise which you have regarded with such evil forebodings."
Revolutionary Road
By: Richard Yates
"The final dying sounds of their dress rehearsal left the Laurel Players with nothing to do but stand there, silent and helpless, blinking out over the footlights of an empty auditorium."
Little Women
By: Louisa M. Alcott
"Christmas won't be Christmas without any presents," grumbled Jo, lying on the rug."
The Picture of Dorian Grey
By: Oscar Wilde
"The studio was filled with the rich odour of roses, and when the light summer wind stirred amidst the trees of the garden, there came through the open door the heavy scent of the lilac, or the more delicate perfume of the pink-flowering thorn."
Atonement
By: Ian McEwan
"The play – for Which Briony had designed the posters, programs and tickets, constructed the sales booth out of a folding screen tipped on its side, and lined the collection box in red crêpe paper – was written by her in a two-day tempest of composition, causing her to miss a breakfast and a lunch."
The Godfather
By: Mario Puzo
Amergo Bonasera sat in New York Criminal Court Number 3 and waited for justice; vengeance on the men who had so cruelly hurt his daughter, who had tried to dishonor her.
American Psycho
By: Brett Easton Ellis
"ABANDON ALL HOPE YE WHO ENTER HERE is scrawled in blood red lettering on the side of the Chemical Bank near the corner of Eleventh and First and is in print large enough to be seen from the backseat of the cab as it lurches forward in the traffic leaving Wall Street and just as Timothy Price notices the words a bus pulls up, the advertisement for Les Miserables on its side blocking his view, but Price who is with Pierce & Pierce and twenty-six doesn't seem to care because he tells the driver he will give him five dollars to turn up the radio, 'Be My Baby' on WYNN, and the driver, black, not American, does so."
I am Legend
By: Richard Matheson
"On those cloudy days, Robert Neville was never sure when sunset came, and sometimes they were in the streets before he could get back."
Life of Pi
By: Yann Martel
"My suffering left me sad and gloomy."
Disgrace
By: J.M Coatzee
"For a man of his age, fifty-two, divorced, he has, to his mind, solved the problem of sex rather well."
Smilla's Sense of Snow
By: Peter Hoeg
"It's freezing - an extraordinary 0 Fahrenfeit - and its snowing, and in the language that is no longer mine, the snow is qanik - big, almost weightless crystals falling in clumps and covering the ground with a layer of pulverized white frost."