What Are the Main Differences between Copyediting and Proofreading?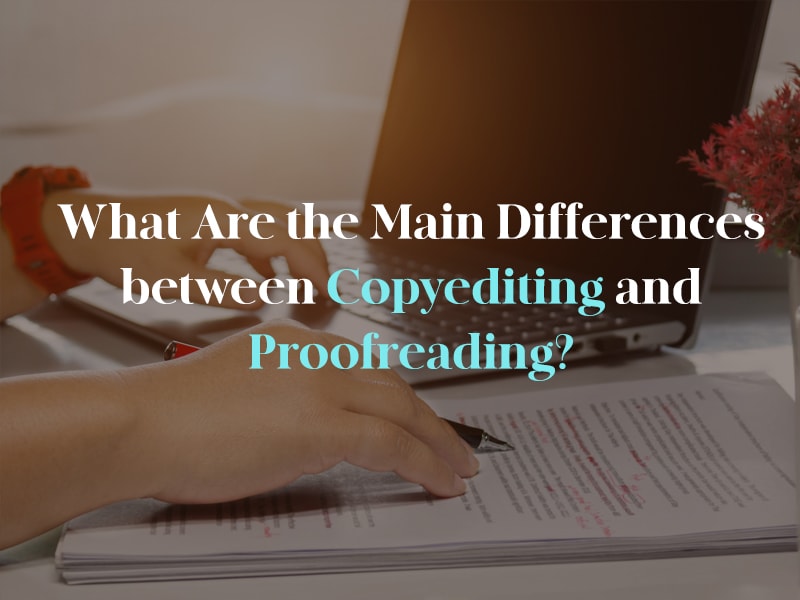 If you just finished writing the first copy of your manuscript, the next step would naturally be the editing process. This is by far one of the most important aspects of the book publishing process. This is because the book editing process is the time where you make sure your book is in the best condition before you release it.
And if you don't edit your manuscript the right way, you may find yourself getting bad reviews. But before you start the book editing process, you should know that there are many ways you can edit your book. Foremost amongst these editing techniques are the copyediting and proofreading method.
But what is copyediting? What is proofreading? Here are the key characteristics of copyediting and proofreading to get you started.
What is copyediting?
Copyediting is the process of checking for errors, repetitions and inconsistencies in the draft. The copyeditor's main objective is to spot the minor and major errors. These errors range from grammar, syntax, spelling and punctuations to name but a few.
The copyeditor must also look for continuity errors and make sure that all loose ends are tied.
Key characteristics:
Copyediting usually takes a month or more. It usually depends on the size of the manuscript and the errors made.
Copyediting is usually the final step before production. In a way, it is the final check before the book is ready for printing.
The copyeditor should check for any inconsistencies in the story. This includes key plot points settings and the characters in the manuscript.
Copyediting entails more than spotting grammatical and spelling errors. It compels the copyeditor to delve deeper into the manuscript, and make sure that the story structure and flow of the story is as efficient as possible.
Copyediting also includes checking for potential legal liabilities.
Copyediting entails checking for factually incorrect statements.
What is proofreading?
As the name implies, proofreading is the process wherein the proofs are inspected for any typographical, punctuation and spelling errors. The proofs are the printed versions of the manuscript, and proofreading's main objective is to ensure that there are no typographical and formatting errors in the proofs. It is quite similar to copyediting.
Key characteristics:
It entails the proofreader to check for formatting and typographical errors.
The proofreading process is usually done after the document has been converted into proofs.
Proofreading also makes sure the draft adheres to the chosen style guide.
Conclusion:
As it was stated earlier, the copyediting and proofreading process are quite similar. Their main objective is to find typographical and formatting errors. The main difference between the two, is that copyediting is the more in-depth of the two.
It goes beyond the conventional typographical errors. It entails the copyeditor to do a comprehensive inspection of the overall structure and flow of the draft. Whereas, in Proofreading, the majority of the corrections are done on the proofs.