35 Famous Quotes to Make your Christmas Writings even Merrier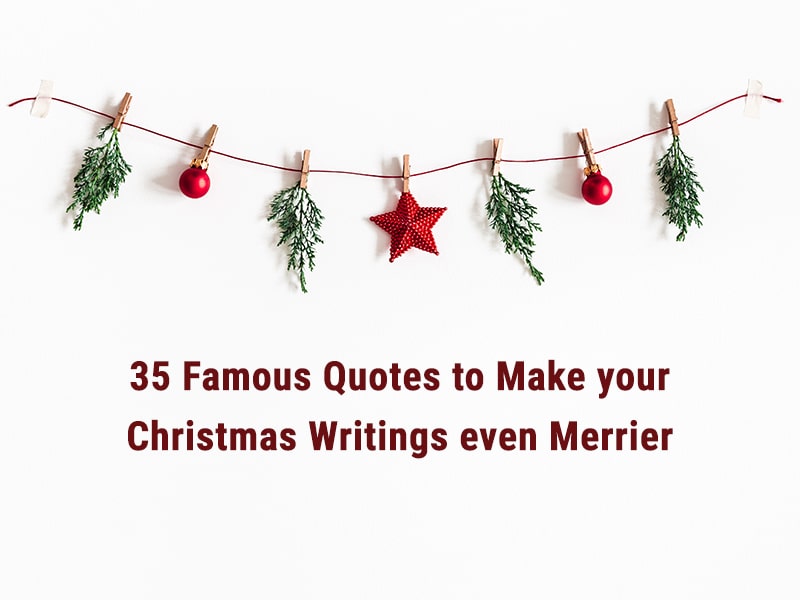 The holiday season is the best time to write a Christmas-themed book. However, before you start the book writing process, you should gain the right inspiration.
Here are 35 Famous quotes to make your Christmas writings even merrier.
Calvin Coolidge
Christmas is not a time nor a season, but a state of mind. To cherish peace and goodwill, to be plenteous in mercy, is to have the real spirit of Christmas.
Washington Irving
Christmas is the season for kindling the fire of hospitality.
Norman Vincent Peale
Christmas waves a magic wand over this world, and behold, everything is softer and more beautiful.
Deborah Whipp
Like snowflakes, my Christmas memories gather and dance — each beautiful, unique, and gone too soon.
Augusta E. Randel
Christmas may be a day of feasting, or of prayer, but always it will be a day of remembrance—a day in which we think of everything we have ever loved.

Pindar
Every gift which is given, even though it be small, is in reality great, if it is given with affection.
B.C. Forbes
Christmas is a tonic for our souls. It moves us to think of others rather than of ourselves. It directs our thoughts to giving.
Richelle E. Goodrich
Christmas is like candy; it slowly melts in your mouth sweetening every taste bud, making you wish it could last forever.
Agnes M. Pahro
What is Christmas? It is tenderness for the past, courage for the present, hope for the future.
Pope John XXIII
Mankind is a great, an immense family... This is proved by what we feel in our hearts at Christmas.

Burton Hills
The best of all gifts around any Christmas tree: the presence of a happy family all wrapped up in each other.
Garrison Keillor
A lovely thing about Christmas is that it's compulsory, like a thunderstorm, and we all go through it together.
Henry Wadsworth Longfellow
I heard the bells on Christmas Day / Their old familiar carols play / And wild and sweet, the words repeat / Of peace on earth, good-will to men.

Carrie Fisher
I don't think Christmas is necessarily about things. It's about being good to one another.
Helen Steiner Rice
Peace on earth will come to stay, when we live Christmas every day.
Margaret Thatcher
Christmas is a day of meaning and traditions, a special day spent in the warm circle of family and friends.
Laura Ingalls Wilder
Our hearts grow tender with childhood memories and love of kindred, and we are better throughout the year for having, in spirit, become a child again at Christmastime.
Andy Rooney
One of the most glorious messes in the world is the mess created in the living room on Christmas Day. Don't clean it up too quickly.
J.K Rowling
One can never have enough socks," said Dumbledore. "Another Christmas has come and gone and I didn't get a single pair. People will insist on giving me books.
Dr. Suess
Christmas will always be as long as we stand heart to heart and hand in hand.

Eric Sevareid
Christmas is a necessity. There has to be at least one day of the year to remind us that we're here for something else besides ourselves.
Ruth Carter Stapleton
Christmas is most truly Christmas when we celebrate it by giving the light of love to those who need it most.
Harlan Miller
Probably the reason we all go so haywire at Christmas time with the endless unrestrained and often silly buying of gifts is that we don't quite know how to put our love into words.
David Grayson
As for me, I like to take my Christmas a little at a time, all through the year.
Benjamin Franklin
A good conscience is a continual Christmas.
Taylor Caldwell
And that, of course, is the message of Christmas. We are never alone. Not when the night is darkest, the wind coldest, the world seemingly most indifferent...
David Cameron
Christmas gives us an opportunity to pause and reflect on the important things around us.
Winston Churchill
Christmas is a season not only of rejoicing but of reflection.
Shirley Sallay
Christmas now surrounds us, Happiness is everywhere. Our hands are busy with many tasks as carols fill the air.
Bob Hope
When we recall Christmas past, we usually find that the simplest things, not the great occasions, give off the greatest glow of happiness.
Tove Jansson
Christmas always rustled. It rustled every time, mysteriously, with silver and gold paper, tissue paper and a rich abundance of shiny paper, decorating and hiding everything and giving a feeling reckless extravagance.
Pope Francis
God never gives someone a gift they are not capable of receiving. If He gives us the gift of Christmas, it is because we all have the ability to understand and receive it.
Toni Morrison
But I did know that nobody ever asked me what I wanted for Christmas. Had any adult with the power to fulfill my desires taken me seriously and asked me what I wanted, they would have known that I did not want to have anything to own, or to possess any object. I wanted, rather, to feel something on Christmas Day.
W.J.Tucker
Christmas means fellowship, feasting, giving and receiving, a time of good cheer, home.
Norman Wesley Brooks
Christmas is forever, not for just one day. For loving, sharing, giving, are not to put away.
Christmas is a time you can draw many warm and happy memories. These quotes could be your inspiration to write a wonderful story that captures the true meaning meaning of yuletide season.