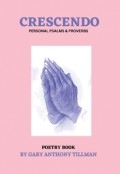 Crescendo is a beautiful book of artistic expression composed of 32 original poems and 1 short story. It is written by Gary Anthony Tillman who is also the author of A Rock In God's Sky & Romans 8:28 The Battle Of The Mind. Crescendo contains t...
---
ROMAN'S 8:28 was influenced by the importance of Mental Health and Self-Empowerment. With no promises of glitz or glam, this book does prove to be authentic and aspiring. Based on a true story.
---
Don't Let It Smoke You is the story about a young kid with a simple dream. Once he achieved his dream he took things for granted. This book is about the power of having a vision and the potential pitfalls that can arise when one stops...
---