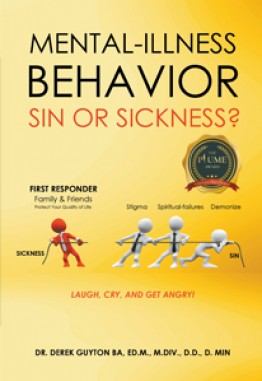 MENTAL-ILLNESS BEHAVIOR SIN OR SICKNESS?
Author:
Dr. Derek Guyton BA, ED.M., M.Div., D.D., D. Min.
Item Summary
| | |
| --- | --- |
| No. of item(s): | |
| Total amount: | |
I had to lay is aside several times then resume reading, proofing because I was soooo ignorant as to the torment and suffering of persons who live in mental illness… the daily struggles, the lack of compassion and understanding from parents, siblings… of course passers by. No help. No hope. I wept. I told you that I did not believe that I could or would be able to do the proofing. There was too much hurt on your pages. I've been enlightened.
Deb [1st editor - unsolicited]
Your heart and passion (and, indeed, your heartbreak) are inspiring and compelling. Your advocacy for First Responders, especially, is Christ-like.
AP [2nd editor - unsolicited]]
Yes! And your book is like an Encyclopedia of info for everyone! I had to put it down a lot...so many emotions, memories, and tips to help with my daughters. I haven't found a single topic you've missed.
This book is the Bible for mental health families...they can always skip the information they don't need.
Your experiences are a baseline for your readers. Derek, this is exceptional. I actually asked God for a guideline in print & here it is. Back to my reading…
Meri [3rd editor - unsolicited]]
Features & Details
Black & White
Pages: 336 | Trim Size: 5.5x8.5